Why Earth Data Gives
Earth Data gives. It is a foundational principle in what we do and who we are as a company. We care about more than soil and water. We care about people, too.
All Earth Data employees are provided with paid time-off in addition to their earned vacation to volunteer for causes they are passionate about. Then, we support that passion. Through their efforts, Earth Data employees have helped support the health of the Chesapeake Bay, the Cub Scouts summer camps, ending the global vision epidemic, stocking fish with the Department of Natural Resources, and providing CarePacks to local students.
We believe giving makes our communities thrive, our employees passionate about more than work, and Earth Data an encouragement to those around us.
Please click here if you have an idea you would like us to consider for a group Earth Data Giving event.
Earth Data Hydrogeologist Mary Wakefield spoke to a group of second-grade students on Earth Day. Though she has a wealth of knowledge about the Chesapeake Bay habitat, she learned even more when she saw it through their eyes.
Earth Data's Construction Inspector, Bruce Strazza, saw his consistent giving recognized as part of a broadening awareness of the need to help those struggling with substance abuse and addiction.
The Earth Data staff volunteered to join Global Vision 2020 help end the global vision epidemic. Our staff sorted prescription lenses for lens kits that will give sight in impoverished nations.
JP Stokes volunteered to be a Cub Scout den leader during the annual 4-Rivers Cub Scout Day Camp at the Anne Arundel County Fairgrounds.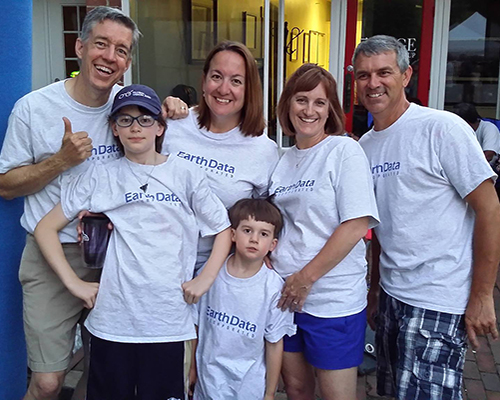 Kevin White and Ted Trumbull (and friends) volunteered to support the importance of clean water in the Chesapeake Bay during the Chesapeake Bay Foundation Clean Water Concert Series.
Devan Smith-Brown and Jeff Chipman volunteered to clear trails at the Chesapeake Environmental Center in Grasonville, Maryland.
Paul Byerly stocked fish with the Maryland Department of Natural Resources. His contribution is helping replenish the Chesapeake Bay and its tributaries for future generations.
Earth Data employees volunteered to help prevent hunger by building CarePacks. The CarePacks program provides food for Talbot County, Maryland's most economically vulnerable students.